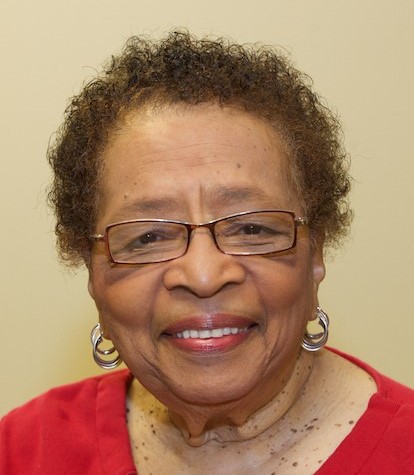 What was the happiest moment of your life?
I guess maybe when I had my first child. It was really representative of a very big change in my life but I've had so many. Graduating from high school, graduating from college, getting my first job. I guess I should include getting married too.
Who has been most influential in your life?
My mother and my father. Especially my mother. She really instilled the importance of reading, studying, and getting good grades in school. I learned how to be a parent from her. One thing I remember about my father is he was the one who taught me about job ethics. Because the first job that I had really wasn't until I was in between college years and the challenges in getting a job being an African American. Back in that time you really couldn't get jobs. So my first job was really after my freshman year of college, and he told me not to be a "clock watcher" and do whatever needs to be done even if it's outside the job description and know that you're there to be helpful. So that really made a big impression on me. My mother also was a big influence on my spiritual development.
What advice or quote did you always try to live by?
My favorite quote from the Bible – "Let everything that has breath praise the Lord." Everything we should be doing in this world, He should be with us along each step. It should be for and with Him. My faith is a big reason why I got into volunteering. When you are putting the Lord into your volunteering, it helps so much. I started volunteering as young as 12 years old teaching church Sunday school classes or when I got old enough to play the piano, I'd play the organ when the organist wouldn't show up. I was involved in Girl scouts, a lot of volunteer work with my sorority. Involved with The Drifters where I've been an officer on their National Board, it's an organization that supports a lot of social service organizations.
What is one memory from your past you cherish?
When I first retired, I spent more time with my grandchildren. I always spent time with my grand kids, picking them up, babysitting them, stuff like that. But for the year after I retired, that full year I was like a nanny to my two youngest grandchildren. I would go over to their house year round. It's a lot of trouble to have children come out to your house, so I'd go to their house and while I was babysitting I'd go grocery shopping, do their dishes, do their laundry. And that was really fulfilling. But you know the other thing…my job….I was never unhappy in my job. I was a licensed physical therapist and worked mostly with little children. I only had three jobs in my life. For 12 years, I worked with kids with cerebral palsy, for a few years I worked in a nursing facility, and for 30 something years I worked for Cincinnati Public Schools. But I really, really loved my job.
Any regrets or advice you'd give to a younger you?
I'm sure there were certain circumstances where I could have been a better parent, a better wife.
Anything else you wish to share?
I really, really enjoyed music. I've directed a choir and sang in choirs. Music was paramount to me. I took piano lessons for 8 years until I went to college, well from 8 yrs old until I was 16. My mother wanted me to major in music but I knew that I could not be a concert pianist – I wasn't that good. But I really didn't want to teach kids how to play and so when I came here I didn't realize I could have taught music in a school. Where I came from in upstate New York they didn't have any African American teachers so it didn't really cross my mind. So when I was involved with the church my mother was always happy. All the lessons paid off. Music was so paramount to me. I always liked writing too. I have some stories that have never been published, publishing is not really what it used to be. So I really only had one small book published, but I didn't really do much to promote it. But I have some other stories in my computer that I need to do something with them. They talk about where I'm from and what I'm about, I need to print them out and give them to a family member. The one that I do have self-published (it got to be too expensive that's why I haven't done much with it) is called "The Other Side of Life." It's the story of young high school aged people, one from the 19th century and two from the 21st century whose paths crossed. One from the 19th century managed to come across into land from the 21st century and he had to adjust himself to being in the 21st century. All three of them ended up going back to the 19th century. One of the 21st century kids was black and when he found himself in the 19th century he was scared to death.

There focus when they were in the 19th century was how they were going to get back to their own century. That's called "The Other Side of Life" I'm proud of that. Of my writing. My mother was always a reader, she worked in a church. My father was a red cap. So he didn't really have a high-level job but he worked as a delivery man. I'm proud of them for making the most of their lives even though they didn't have a high-level education, but they were smart people. They made the most of what was. They couldn't get the kind of jobs they should have had because of the time they lived in. But they didn't worry about it. Daphne's advice to all (in talking about racial injustice): "Just be active, make the world better."