Message from our co-founder
Combining artistic expression, music and movement this program brings together those in our community living with dementia and their loved ones or caregivers for a weekly engagement session  
$300 supports one week of programming for 30+ individuals  
We partner with ERS locally to offer opportunity for engagement between those living with dementia and their caregivers. Music in Motion is our partnership with ERS and the Cincinnati Opera.
$200 supports one hour of this program.
Puposeful Planning Program
A is a free consultative service.  It is intended for individuals and families navigating all aspects of the caregiving journey. Purposeful Planning Program consultations are facilitated by clinical social worker, Kristin Cooley, LISW-S, LCSW with the NeuroPsych Center of Greater Cincinnati.
$200 supports one 2 hour planning session & custom report 
Reflective & supportive online writing experience
Annette Januzzi Wick & Pauletta Hansel are leading an online creative writing experience designed to help family caregivers explore the gifts and challenges of their lives through poetry, storytelling, and journaling.
$10 buys one journal & $20 sponsors one class participant
The Giving Voice Foundation has a mission towards advocacy, education, fundraising and perhaps most importantly:
sharing stories
. We strive to give voice to all local Cincinnati older adults and especially those who have begun to lose their rich life stories to the tragedy of Alzheimer's or dementia.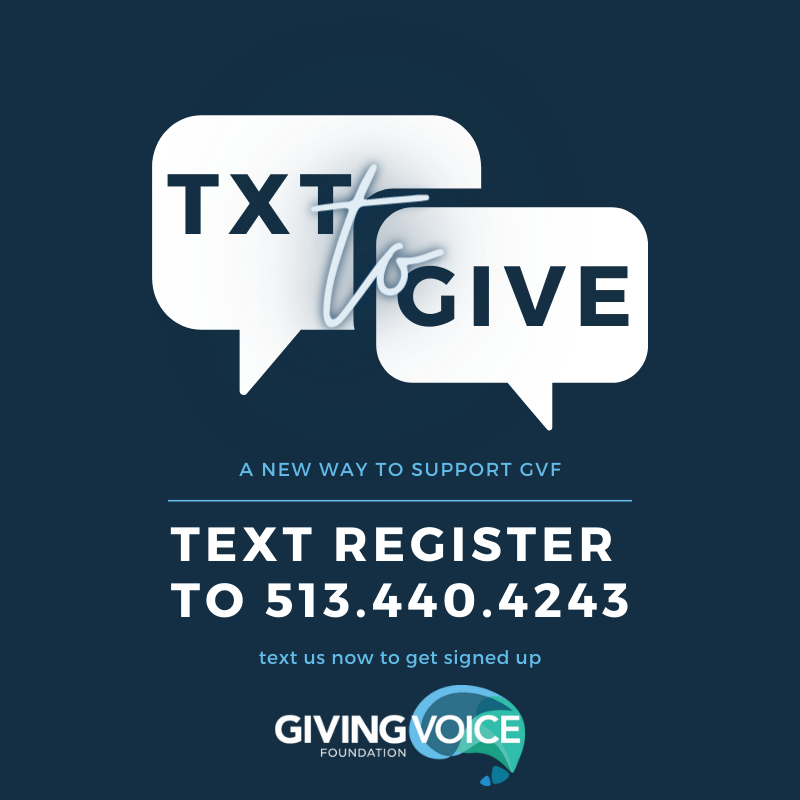 We depend on your support: attend and event, volunteer, become a sponsor or donate to our ongoing mission. Whatever you choose, know that your support and always helps care for and advocate on behalf of our local older adults and their caregivers through local direct programming right here in the tristate.
We are a registered 501(c)3 non profit organization. 
PO Box 27050, Cincinnati, OH 45227