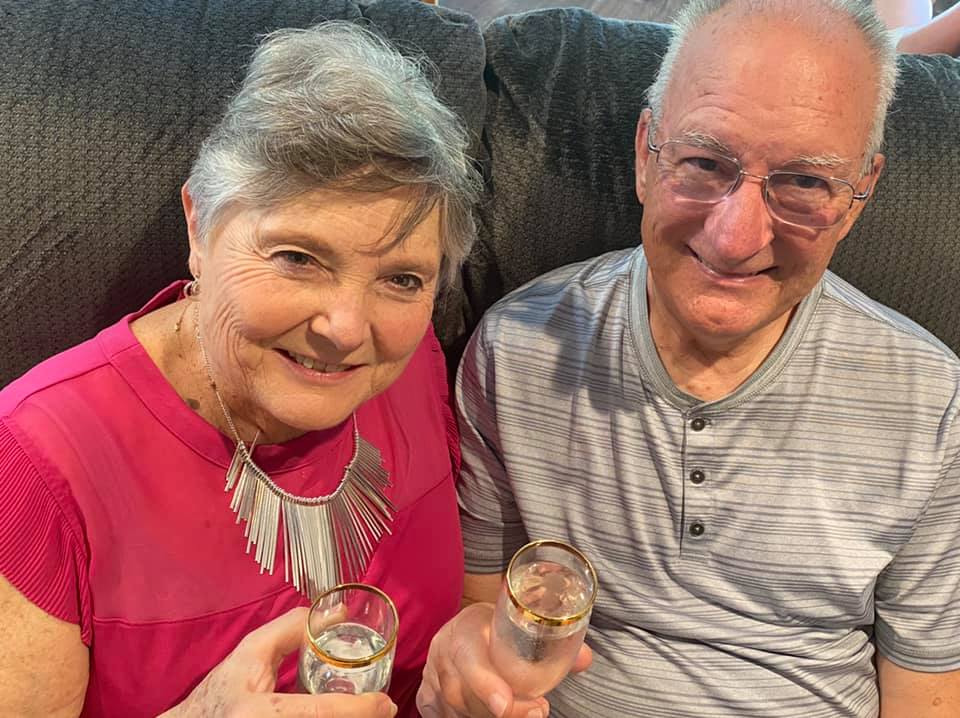 What was the happiest moment of your life?
Thom:

The birth of my two daughters. That was the fulfilment and expansion of our marriage and creation of family. The birth of our girls brought me into a whole new realm I didn't know existed. Becoming a father allowed me to change the cycle and truly create family.

Dianne:

The happiest day of my life was the day I married Thom.
Who has been most influential in your life?
Thom:

Without a doubt, Dianne. She permitted me to experience being loved. If I had not married and had the sense of hope she provided, I really think my life would have ended much sooner.

Dianne:

My mom. She was my first teacher and she was an example, model, guide and so nurturing to me. I learned patience from her as she home taught us. She was also the first one to suggest to me that I could be a good teacher. My mom was selfless and very much lived for others. It was through her influence that I left the convent the first time and why I knew it would be ok when I left the second time – I knew she would accept me just the way I am. She was always there when I needed her – whether taking care of our girls after the fire, modeling what it meant to be a grandma, and even now in heaven – she is still very spiritually influential to me.

It was hard to decide between her and Thom. He is the other most influential person in my life.
What advice or quote did you always try to live by?
Thom:

It's a quote (Fr.) Armstrong used to always use. I don't know if he was quoting someone else but he would say, "your giftedness is your brokenness." Once I understood my brokenness had gold within, that changed my whole perspective. That's when I learned to really be compassionate.

Dianne:

"Do unto others as you would have them do unto you." Also, Patrice (daughter) shared a quote that I really like that talks about not just giving, but giving more than what is expected.
What is one memory from your past you cherish?
Thom:

What comes to mind is a more recent memory…our family vacation in Niagara Falls. Having the entire family present, enjoying one another, playing, and taking time to eat and just be present. It made me grateful and to see all the generations together.

Dianne:

One of my most cherished memories was a God moment when Patrice was born. After cleaning her up, the medical team put her in my arms and I was so very aware of, and could see, all the spirits of past grandmothers from our family there. They were with me in that special moment. I called my mom on the hospital phone and cried because I was so deeply touched.
Any regrets or advice you'd give to a younger you?
Thom:

Although I gave a lot of time to Katie (dear family friend through church) as she aged, I regret that I was so focused on being a caregiver and did not focus more time on realizing I was sitting at the feet of a wisdom women. I wish I had listened and learned even more from her.

As far as advice, I would tell myself not to listen to the stories and tapes other people say and play about you. I'd tell myself to discover my own goodness and play those tapes in spite of what other people say.

Dianne:

I usually try to make choices with the thought that I don't want to look back and say I wish I had done things differently…so I don't have regrets. I keep moving forward, not backwards.

I would tell my younger self to lose the weight! Don't carry it around for so many years because it adds years to your life. Also, forgive yourself.
Anything else you wish to share?
On September 5th, Thom and Dianne will celebrate their 50th anniversary. Their marriage has been built on a commitment to social justice, hospitality, inclusiveness, tender listening and rituals to celebrate the milestones of life. They are a true testimony to faith in action and are incredible role models. Thom and Dianne are the proud parents of two adult daughters, a son-in-law, four grandchildren and two great grandchildren. In truth – their daughters, son, grandkids and great grandkids are incredibly proud of THEM!